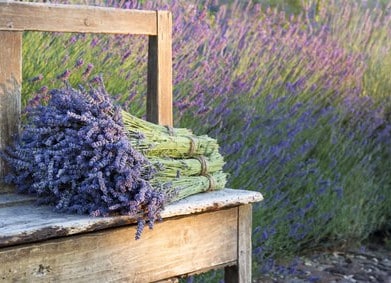 Lavender means summer, and the Mediterranean with its distinctive fragrance.
Key Lavender facts

Name – Lavandula
Family – Lamiaceae
Type – shrub, sub-shrub

Height – 8 to 32 inches (20 to 80 cm)
Exposure – full sun
Soil – ordinary, well drained

Foliage – evergreen
Flowering – June to August
Planting, pruning and caring for them are steps that help enhance blooming and growth of your lavender.
Planting lavender
Lavender grows everywhere in France and in countries that have similar climates as long as maximum sunlight is provided.
We recommend planting them in fall, but you can plant in spring without any problems.
Prepare a place that is well endowed with sunlight and well drained soil. If your soil is clay, mix sand into it to make it lighter.
Sometimes, freshly planted lavender dies after a few weeks, because the soil is too moist. That is why it is crucial to have very well drained soil.
To grow a lavender hedge, plant one stem every 12 to 16 inches (30 to 40 cm).
Pruning and caring for lavender
Pruning lavender is possible, but must be exclusively performed on growth that still bears leaves. If you prune dry wood, they won't grow back…
At the end of winter, prune as you wish, but follow the rounded shape of the plant.
Avoid cutting off old growth, because those branches rarely send out new shoots.
Favor pruning only on young, tender shoots rather than old, hard wood.
If your climate zone has mild winters, you can also prune your lavender bush in fall.
After the blooming, cut the floral scapes off to avoid needlessly draining the plant nutrients.
Cut lavender flowers are an excellent way to perfume clothes and laundry.
Watering lavender
Lavender must be lightly watered at the beginning, but usually can keep growing without further watering.
Lavender hates excess moisture, so water sparsely to avoid suffocating the roots.
Water only when surface soil is dry.
Water lightly without flooding the roots.
Once well settled in, lavender doesn't require any watering.
Here is our video advice to prune lavender correctly
Preserving lavender
Lavender flowers and branches can keep for months, even years, if kept in a dry place sheltered from the sun's rays.
Best is to hang floral panicles together in small bunches to dry them before keeping them.
Our grandmothers used to prepare small cotton pouches filled with lavender flowers to perfume our laundry in the closet.
All there is to know about lavender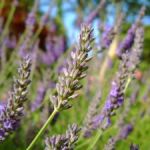 Lavender has been grown for thousands of years for its scent, and also for its medicinal properties.
Native to the Mediterranean water basin, lavender was first used by the Romans to protect cloth and to perfume public baths.
It was quickly used in Provence (France) to produce perfume and medicine thanks to its health benefits and medicinal properties.
A very engaging plant, this sub-shrub is one of the symbols of Provence, of the Mediterranean sun and typical fragrance.
While it was used in olden days to perfume baths and clothes, lavender today serves to beautify our rock beds, flower beds and gardens.
It is still used as an ingredient in perfumes and essential oils, especially in the Grasse region.
Easy to care for, lavender requires reduced watering in case of high temperatures.
Smart tip about lavender
Mulching the base of your lavender plants with cocoa hulls is very ornamental and the scent combination is a real treat!
Read also on the topic of flowering shrubs: