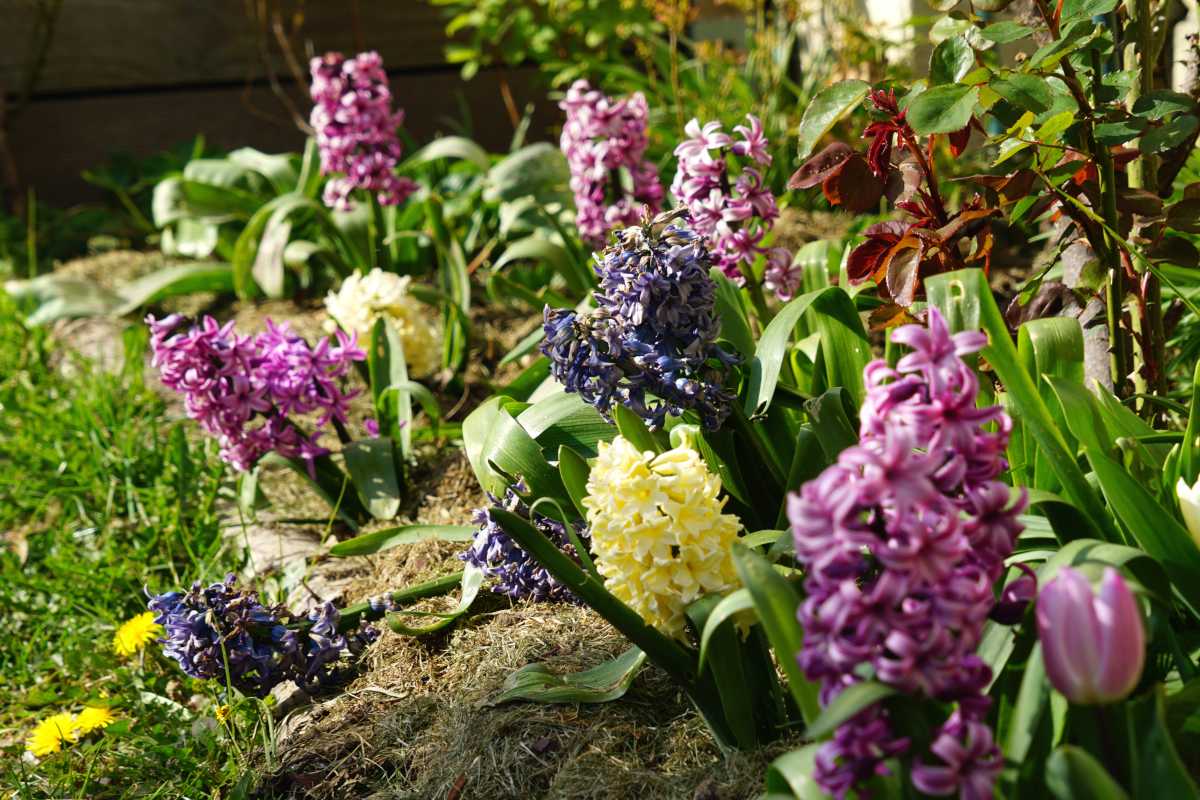 Bulb planting takes place in fall or in spring depending on when the blooming season is.
Spring-flowering bulbs are planted in fall
and summer-flowering bulbs need planting in spring.

Here are a few recommendations for planting bulb flowers like tulips, hyacinths, crocus, narcissus or lilies and gladiolus.
Note: before planting the bulbs, make sure to get the high-quality ones for each species (tulip in that article).
Which soil is best for planting bulbs?
Avoid rocky, heavy and repeatedly flooded soil types at all costs.
These would keep the bulbs from developing well, and prolonged flooding usually makes bulbs rot. If this is the soil you have, consider building a raised bed.
Bulb plants generally do best in light and rather warm soil.
Exposure for bulb flowers
Required exposure depends on the species. Some bulb flowers, like Cyclamen, will dry out in full sun.
As a rule of thumb, the more sunlight a spot gets, the earlier bulb flowers there will bloom. Planting the same type of flowers in shade, part shade, and full sun can stage the blooming by up to two or three weeks.
Type the name of the plant in the Nature-and-Garden search box to call up the specific page for each and discover all of its characteristics.
Distance between bulbs
In most cases, never plant bulbs closer than 4 to 6 inches (10 to 15 cm) apart.
But some plants like crocus and snowdrop can be crowded together since they are very small flowers.
Conversely, this distance must be increased to 8 to 12 inches (20 to 30 cm) for balisier or iris.
Planting technique
Use a planter, either a normal one or one specially designed for bulbs, or use a simple spade.
Dig a hole roughly 2 or 3 times deep as the bulb is high, and cover with soil. Take care to check that the entire surface of the bulb is in contact with the soil.
What about growing bulb flowers in pots?
This is the perfect solution if the soil is really too heavy, or if you don't have much space. For instance, growing potted tulip is very gratifying!
Bulbs are everywhere in our gardens
Tulip comes in an amazing variety of colors. There is no limit as to how many can be planted, in your flower beds, along your hedges, and even in pots for your balcony.
You are now ready to plant bulbs and see beautiful flowers in your garden, great job!
See also:
---
Credits for images shared to
Nature
&
Garden
(all edits by Gaspard Lorthiois):
Hyacinths and other bulbs by Rosalyn & Gaspard Lorthiois, own work