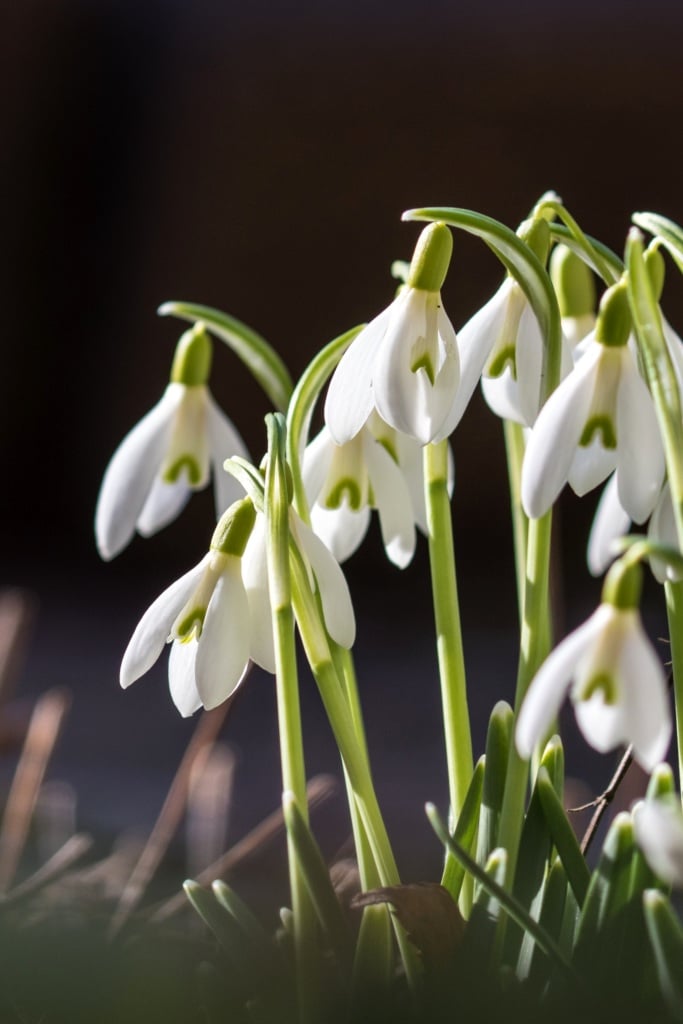 Snowdrop is one of the first flowers to bloom at the end of winter.
Summary of Snowdrop facts
Name – Galanthus
Family – Alliaceae
Type – spring bulb
Height – 6 to 8 inches (15 to 20 cm)
Exposure – full sun
Soil – ordinary
Flowering – January to March
Planting is in fall and caring for it is truly very easy for your garden to sprout these cute little flowers.
Planting snowdrop
Snowdrop and spring snowflakes look almost exactly the same, and both have exactly the same needs when it comes to growing them. Each is often mistaken to be the other.
Fall is when to plant snowdrop bulbs, about 2 to 2½ inches (5 to 6 cm) deep.
Snowdrop likes rather humus-rich soils that stay cool in summer. Therefore, forest underbrush or the shade of a hedge are the best possible spots.
Planting them under a hedge of deciduous shrubs is perfect because they'll have the winter sun and the summer shade which suits them best.
Feel free to cluster several dozen bulbs close together to create a massive impact.
You can also choose spots with different exposures which will result in different blooming dates.
Check out our guide detailing how to plant bulbs.
Trimming and caring for snowdrop
Snowdrop bulbs tend to dry up quickly and don't cope well with being unearthed.
At the end of the blooming season, wait for the leaves to turn yellow before cutting them off, this is the period when the bulb is stocking nutrients for the following year's blooming.
Don't mow before leaves have wilted completely.
In the end, snowdrop only requires very little care and is perfectly suited to beginner gardeners.
Learn more about snowdrop
This plant bears its name well, since it is among the only ones that can bloom even though snow is still around.
There are 19 snowdrop species and over 500 different varieties. The most common one with the widest distribution is the Galanthus nivalis, and farther south another common one is Galanthus elwesii.
From January to March, you'll love the small white bells that quietly announce that we're headed towards spring.
Snowdrop generally announces spring and that means it will soon be the end of winter!