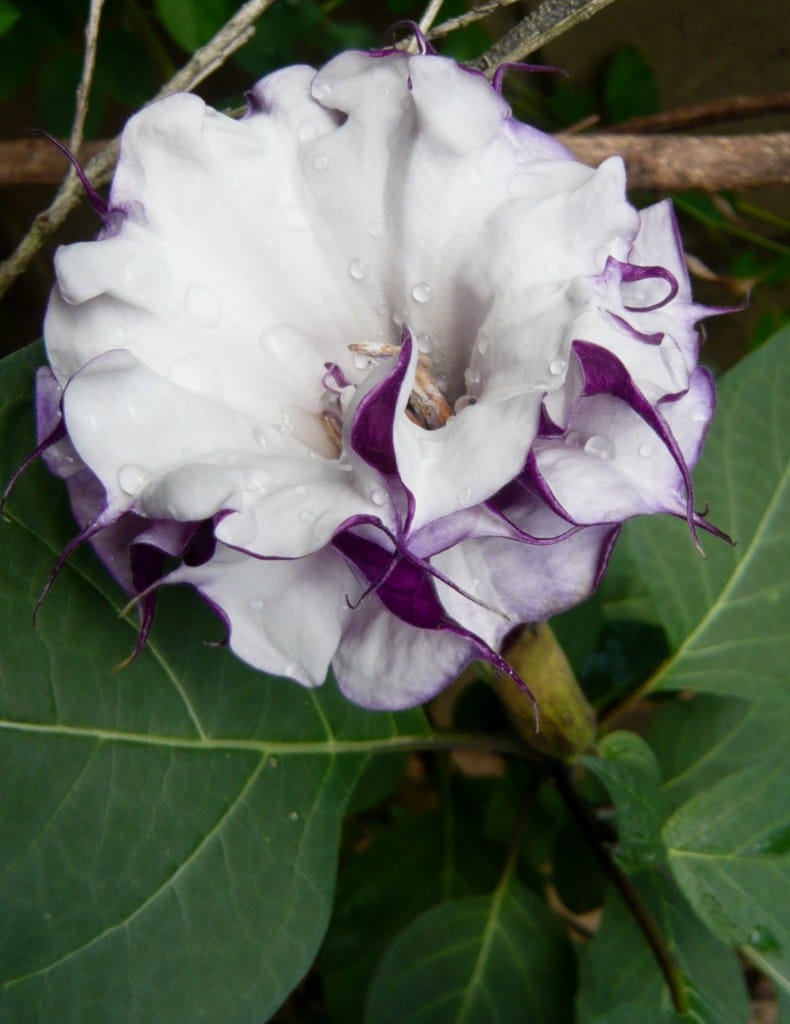 Datura, also called "devil's trumpet" for its magnificent inflorescence, is a very interesting and ornamental shrub.
Datura facts, a short list

Name – Datura species
Family – Solanaceae or nightshade
Type – shrub
Height – 6 ½ to 16 feet (2 to 5 meters)
Exposure – full sun
Soil – rich enough
Foliage – evergreen
Flowering – May to September
It is vulnerable to freezing and loves sun to bear, all summer long, very beautiful flowers.
Planting datura
It is best to plant your datura in spring in a blend of earth, soil mix and soil conditioner.
Find a place in your garden that is protected from wind, but gets a lot of sun.
It's possible to sow in a sheltered place starting in March and put in place in May.
If you live in an area where winter freezing is very cold (lower than 23°F or -5°C), consider growing your datura in a lean-in or transfer them during the coldest months to a spot where it doesn't freeze.
Propagating Datura
It is really simple to propagate datura through cuttings, it's the easiest and fastest technique.
Summer, from May to July, is when to prepare datura cuttings.
Select cuttings about 6 to 8 inches (15 to 20 cm) long.
Remove lower leaves, keeping only the topmost 1 or 2 pairs at the tip.
It is possible to dip the cuttings in powdered rooting agents.
Plant your cuttings in nursery pots filled with cutting soil mix.
Ensure the soil stays reasonably moist, place it is a warm place with light but not direct sun.
Pruning and caring for datura
Since it is easy to care for, the only bit of attention it needs regards watering: it must be watered often.
How to trim datura
Pruning datura is best at the beginning of spring.
Datura can bear pruning well, so it can be quite drastic.
How to water datura
Water regularly, but not too much, in times of high temperature. Spread mulch out at the foot of shrub over winter.
For potted datura, water must be provided as soon as the surface soil is dry.
Take note to protect your hands when pruning this shrub, because its leaves and stems contain high levels of alkaloids that are very poisonous.
Diseases and pests that infect Datura
Datura avoids problems with large herbivores thanks to its poisonous leaves, but insects and diseases still attack it.
Fungal diseases such as Septoria will spot the leaves. All datura species are among the septoria fungus host plants.
Leaf spots that show rings inside them are most certainly due to Alternaria tenuissima, another leaf spot fungus.
A few other fungus are responsible for root rot in this plant, such as Pythium (see a case where Pythium results in diseased Sunpatiens), Thielaviopsis and Phytoptora.
Viral diseases (sometimes spread by insects) may also contaminate Datura :
mosaic viruses and others may result in leaves folding up and wilting.
Insects may also be to blame for spots and disease:
Aphids are quite recognizable and can be seen with the naked eye. In addition to the damage they inflict, they also spread viral plant diseases.
Whitefly requires a magnifying glass but can also be dealt with easily. They don't usually spread diseases.
Learn more about Datura
Native to Mexico and to the American South-West, there are about ten species that belong to the Datura genus.
This magnificent shrub with remarkable blooming produces abundant and fragrant trumpet-shaped flowers.
It originated in the warm climates of South America and tends to have trouble adapting to places where it freezes often.
There are high amounts of alkaloid compounds in all parts of the plant. This powerful substance is very poisonous, even though it is also used as an ingredient for some drugs.
Ingesting Datura can induce severe hallucinating and may even lead to death. It is a drug, and selling it as such is crime liable to severe penalties.
Quite often, Datura is confused with Brugmansia
Smart tip about datura
Add small quantities of organic fertilizer often during the blooming to enhance it.
---
Credits for images shared to Nature & Garden (all edits by Gaspard Lorthiois):
Datura flower by kafka4prez under © CC BY-SA 2.0
Simple datura fllower by Mike Lewinski under © CC BY 2.0