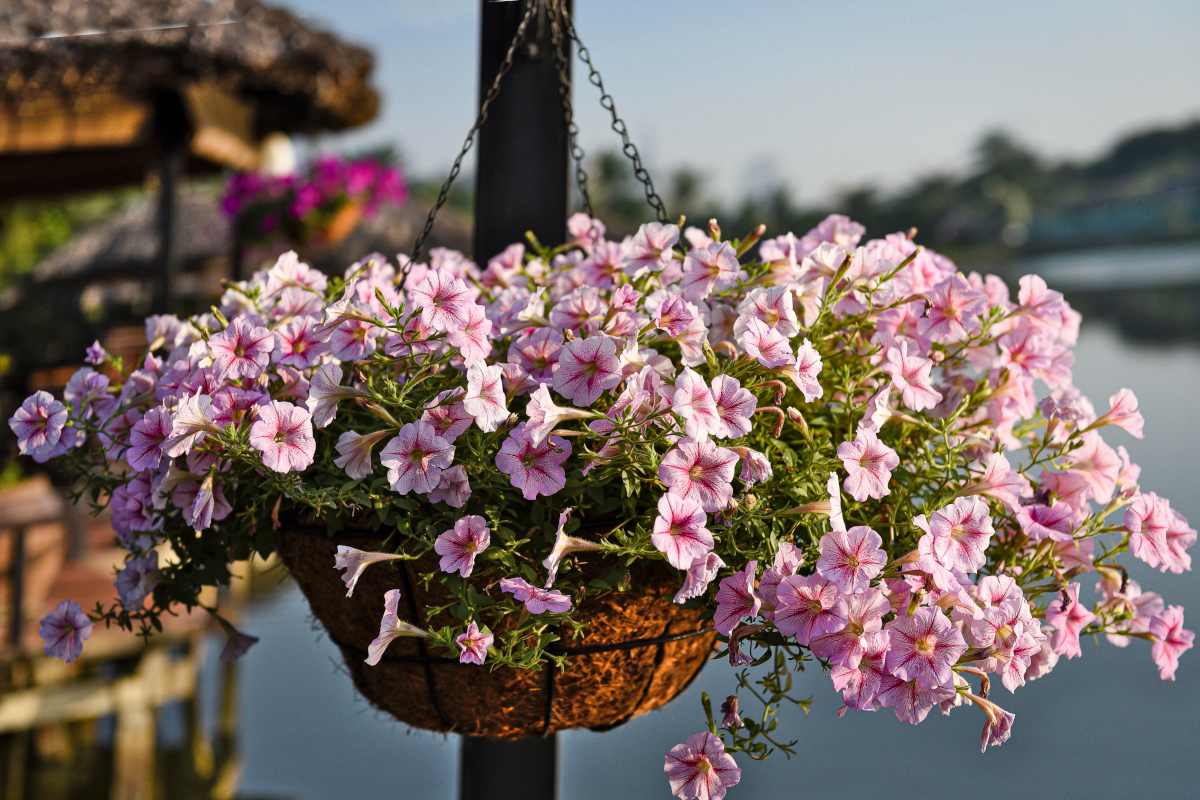 Surfinia is actually a kind of hanging petunia that bears hundreds of small bell-shaped flowers. It is often used as a cascading flower to cover balconies and deck overhangs.
Summary of surfinia facts
Name – Petunia x surfinia
Family – Solanaceae or nightshade
Type – annual
Height – 6 to 20 inches (50 cm)
Exposure – sun or part sun
Soil – rather rich, not too chalky
Flowering – May to October
Even though it is a perennial in warmer latitudes, in temperate climates it is grown as an annual but its blooming nonetheless lasts a long time.
Planting, sowing surfinia
How to plant surfinia
It is recommended to plant this petunia in spring, after any risk of freezing is over, because it doesn't survive freezing well.
Surfinia in flower beds
Blend garden soil to soil mix.
Surfinia for pots, garden boxes, containers
If you've purchased your plants in nursery pots, mix together garden earth and soil mix.
It's also possible to use only soil mix, since this would further boost plant growth and blooming.
Surfinia as a hanging plant
Choose hanging plant soil mix which tends to be lighter, otherwise you'll have problems with this type of planting.
Sowing surfinia
For seeds, practice sowing in a tray indoors, in your home, starting in February/March.
Simply press the seeds down to ensure they stick to the special "seedling soil mix", without covering them over.
Water regularly to retain moisture, but not too much.
When the first leaves of your surfinias pop out, transplant to nursery pots and wait for the last frost to have passed before planting them outdoors.
Whether the plant is in a container or in the ground, select a sun-filled spot for maximum blooming.
Pruning and caring for surfinia
To enhance flower-bearing, you can remove wilted flowers regularly.
During spells of high temperatures, feel free to water in the evening to avoid having your petunia dry out.
It is preferable to let the ground dry up somewhat before watering again to avoid excess moisture.
Learn more about surfinia
The Surfinia Petunia ® is a petunia hybrid that has the special trait of cascading down. Evidently, this makes it a great choice for suspended pot arrangements!
It was bred in Japan and has the gift of bearing beautiful flowers for a long time.
It is a kind of weeping, cascading petunia that produces rolling swaths of flowers.
Since it is easy to grow, it will develop well in garden boxes, suspensions and also directly in the ground.
The blooming spreads from the beginning of spring until fall. It loves sun and well-drained fertile ground.
Smart tip about surfinia
Flower your garden, balcony or terrace with surfinia for a landscape that is full of colors!
Surfinia on social media
Click to open posts in a new tab. Follow us there, comment, and share!
Also nice: create or join a topic on our landscaping forum, too.
---