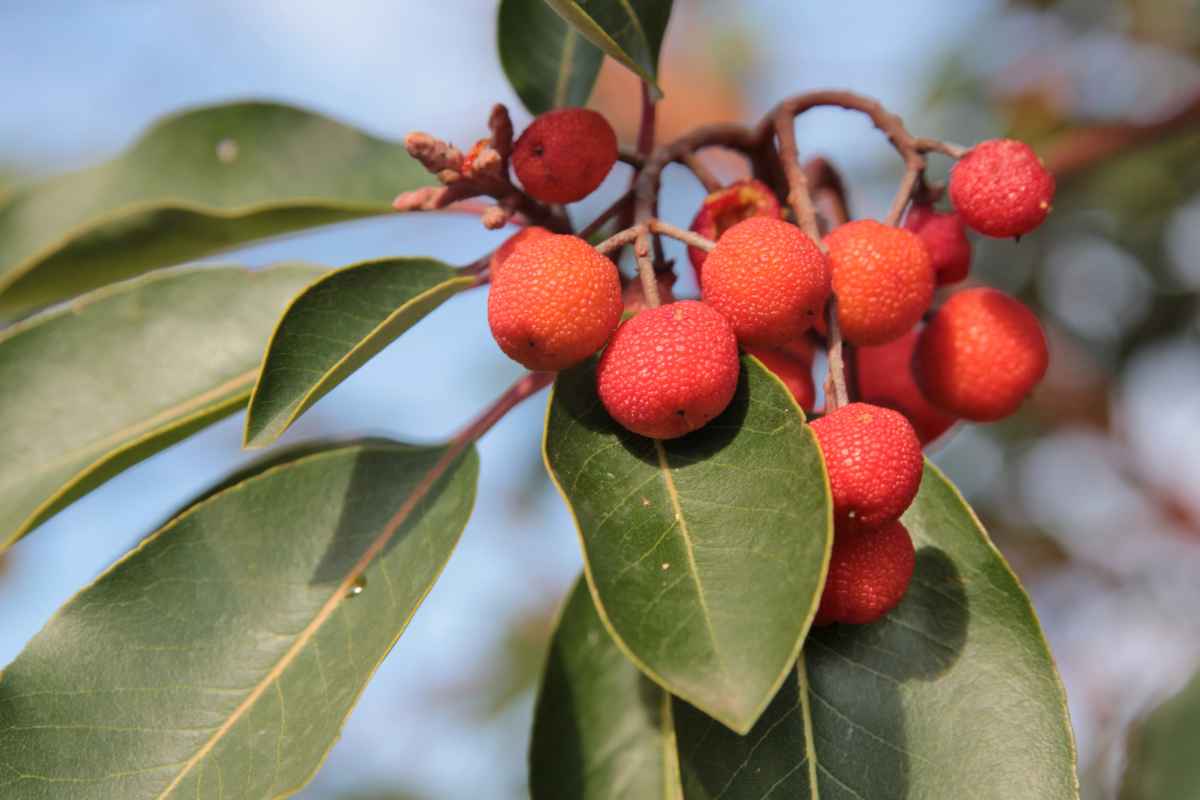 The Arbutus unedo tree is a superb shrub that is well-known thanks to its beautiful red fruits that look like strawberries – and they're edible, too!
A summary of A. unedo key facts
Name – Arbutus unedo
Family – Ericaceae
Type – shrub
Height – 6 ½ to 16 feet (2 to 5 meters)
Exposure – full sun, part sun
Soil – ordinary, well drained
Foliage – evergreen – Flowering – Autumn – Harvest – Autumn
Planting an Arbutus unedo tree
Fall is the best season to plant your Arbutus unedo tree but you can still plant it without dire consequence until spring, as long as you are able to avoid frost spells.
When planting in spring, provide for adequate watering after the planting.
A. unedo prefers locations with high exposure to sunlight.
For hedges, space the trees at least 32 inches (80 cm) apart.
Refer to our guidelines for planting shrubs.
Pruning Arbutus unedo trees
Pruning of the Arbutus unedo tree is rather done in spring.
Avoid pruning in fall, because you would be pruning off the magnificent berries that form and stay on the tree over winter.
Know more about the Arbutus unedo tree
Noteworthy berries
Arbutus unedo is a very beautiful shrub that bears cute edible fruits. However, the pleasure we derive from this bland fruit seems a far match from the joy that birds express when they stop by for a bite…
Actually, the "unedo" part of the scientific name is said to come from old Latin "unus" and "edo" which means "one edible". Not that it is toxic: simply that since the taste isn't very delicious when raw, eating one is more than enough!
Easy to care for, Arbutus unedo adapts to all soil types, either in beds or in hedges, or in pots or garden boxes for a terrace.
Arbutus unedo is especially present around the entire Mediterranean ocean, but it also grows well along the Atlantic coast.
Its hardiness is quite good, down to 5°F (-15°C) which makes it a shrub that resists freezing rather well.
You may plant it as a standalone and also as part of a hedge to decorate your hedge in winter thanks to its ornamental berries.
Surprising peeling bark
On top of hosting those bright red ping-pong ball-sized berries, the amazing bark of the tree will increase your garden's winter appeal!
Disease and treatments for Arbutus unedo
Read more about shrubs:
Smart tip about Arbutus unedo
No need to add any fertilizer, but it is a good idea to mulch the base of the tree to avoid weed growth in summer and protect roots when winters are cold.
Arbutus unedo on social media
Click to open posts in a new tab. Follow us there, comment, and share!
Also nice: create or join a topic on our gardening forum, too.
---
Credits for images shared to
Nature
&
Garden
(all edits by Gaspard Lorthiois):