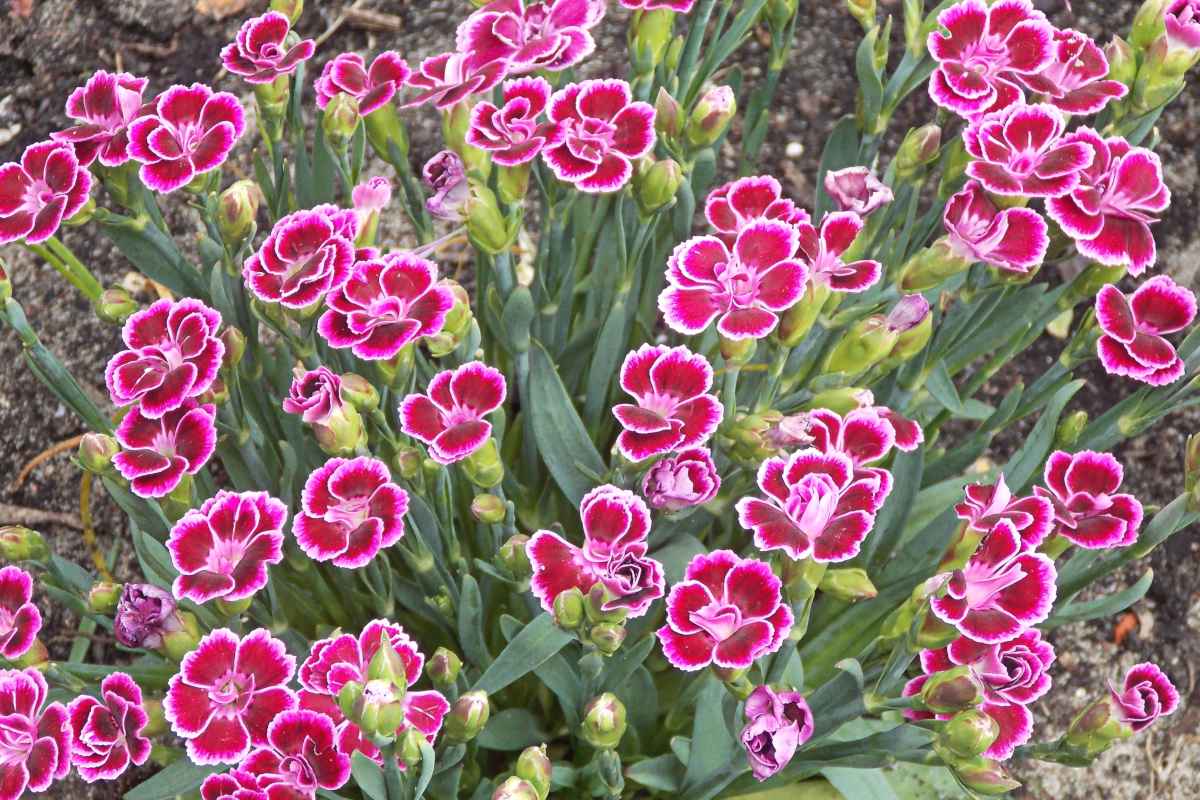 Carnation, whether annual or perennial, shares simple and beautiful blooms.
Core Carnation facts
Name – Dianthus
Family – Caryophyllaceae
Type – perennial, annual or biennial
Height – 8 to 32 inches (20 to 80 cm)
Exposure – full sun, part sun
Soil – ordinary
Flowering – May to September.
Caring for carnation is easy so here are the tips to produce magnificent flowers all summer long.
How to plant carnation
There are a great many species and varieties of carnation. From the many species, here are the most common ones:
Clove-pink carnation, 20 to 32 inches (50 to 80 cm) tall, perennial or annual.
China pink, 8 to 12 inches (20 to 30 cm) tall, annual
Carnation for rocky ground, Maiden Pink, 3 to 6 inch (10 to 20 cm) annual or perennial.
Sweet William carnation, 20 to 32 inches (20 to 60 cm) tall, perennial or annual.
Garden pink carnation, 8 to 12 inches (20 to 30 cm) tall, very fragrant perennial.
For perennial carnation
No importance, plant in fall or in spring, carefully keeping a space of 8/10 inches (20/25 cm) between plants.
Perennial carnation cuttings are very easy to perform starting from the month of May.
They can also be multiplied through crown division in fall.
For annual carnation
Proceed to sow under shelter starting from the month of March, transplant once to nursery pots before putting them in place in spring.
You may sow directly in the ground from April to May.
Pruning and caring for carnation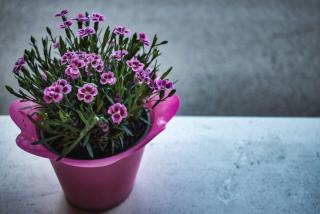 Carnation is very resilient and only requires little care.
To stimulate appearance of new flowers, cut wilted flowers regularly (deadheading).
Water in case of prolonged dry spells or heat wave only.
For perennial carnations, cut the stems to an inch (a couple centimeters) in fall and if possible cover with dead leaf mulch.
For annual carnations, pull them out in fall because they don't grow back year after year.
All there is to know about carnation
Actually, carnation is a common name that refers to a great many grassy flowers, most of them part of the Dianthus family.
The scope and range of the carnation species means there is always one to meet any combination of shape and color.
This perennial or annual, depending on the carnation variety, is nonetheless always abundant in its blooming and thus helps populate your flower bed, edges, rocky ground or garden boxes.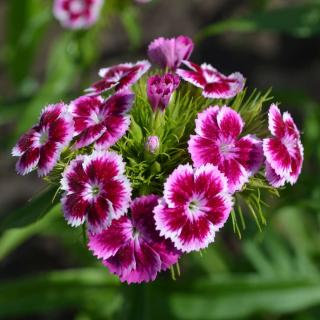 Not to be confused with French marigolds which is part of the Asteraceae family, and which often is lumped together with carnations due to their resemblance, carnation are a distinct set of species and cultivars. Note that, unlike French marigolds, carnation of the Dianthus genus aren't edible.
With bright colors and very fragrant, seize the opportunity of mixing several species within the same flower bed.
Smart tip about carnation
These carnations hold very well in a bouquet and are beautiful in a floral composition.
Carnation on social media
Click to open posts in a new tab. Follow us there, comment, and share!
Also nice: create or join a topic on our gardening forum, too.
---