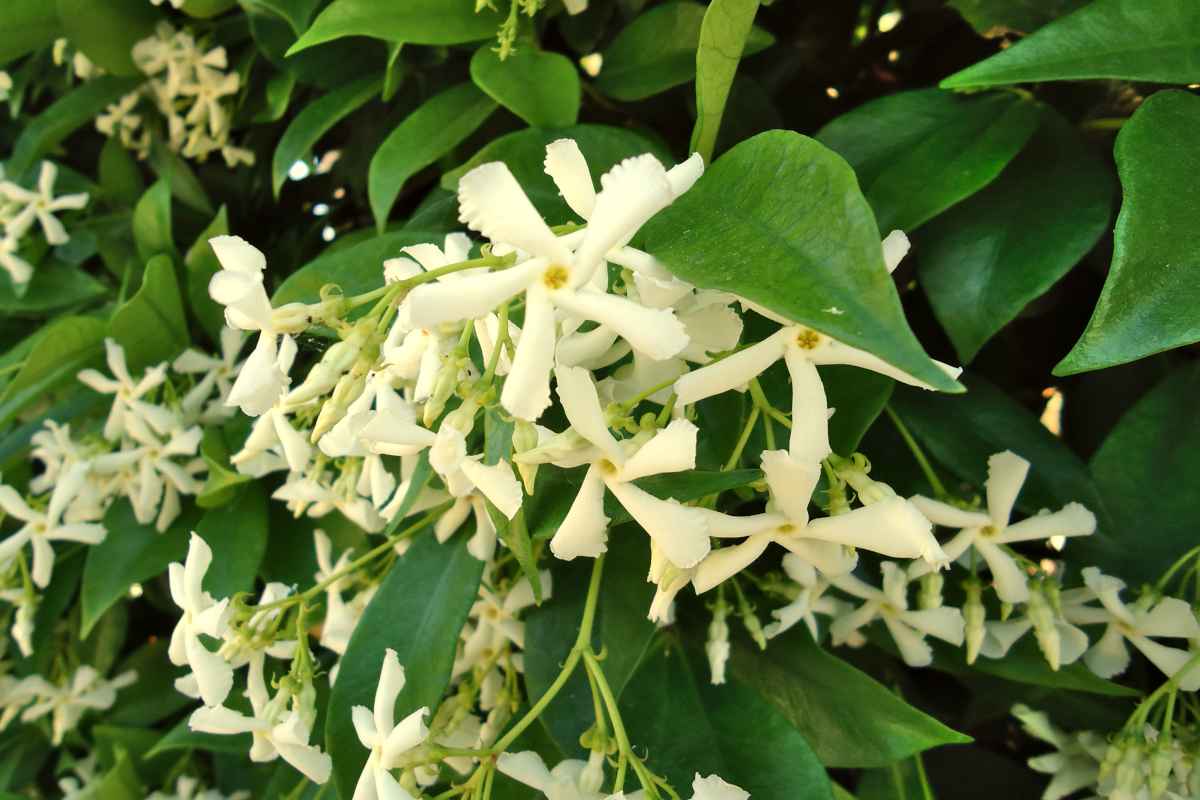 Star jasmine or false jasmine is a very beautiful fragrant climbing vine that blooms all summer long.

Summary of Star jasmine facts

Name – Trachelospermum jasminoides
Family – Apocynceae or dogbane
Type – climbing shrub
Height – 16 feet (5 m)

Exposure – full sun
Soil – well-drained
Foliage – evergreen
Flowering – June to October
If you're looking for advice on winter jasmine, often used for growing indoors, follow this link.
Planting star jasmine
Planting, care or pruning must all follow good practices to increase the blooming.
Star jasmine is planted indifferently in fall or in spring.
Apart from these two periods, avoid at any cost days of high temperatures or of freezing cold.
Make the most of its smooth jasmine fragrance, and set it up near a passageway or a window so that you may benefit from it with all your senses, not only the eyes!
Preparing star jasmine cuttings is rather easy, it is performed in spring.
Pruning and caring for star jasmine
Rather straightforward, caring for star jasmine can even be left to minimum care once the plant is correctly settled in.
Caring for star jasmine
Star jasmine is a plant that doesn't depend on much care, especially when it is properly settled in.
Drought occurring within the first two years after planting is the only reason you'll need to water it.
Adding flower plant fertilizer in spring will enhance your star jasmine's blooming.
Pruning star jasmine
No pruning is formally required but an annual makeover at the end of winter will enhance blooming.
If you wish to balance the shape or reduce the size of your plant, do it at the end of winter or at the very beginning of spring.
Learn more about star jasmine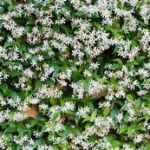 Star jasmine, native to Asia and sometimes called Indian jasmine, earned its name from the fragrance that smells a lot like jasmine that emanates from its blooming.
Its inflorescence is very beautiful and its evergreen leafage lasts all year long.
This very beautiful climbing shrub is easy to care for and maintaining it is a breeze.
It is perfectly suited to covering a wall, but also makes for great ground cover or pot arrangement material.
Note that if you grow it in a pot it will stay small.
At the beginning, attach your star jasmine to a lattice because it has trouble starting off, but afterwards it will wind around on its own.
Smart tip about star jasmine
If you're hoping for it to climb, help it out at the beginning because it isn't quite good at attaching itself at the start.
Read also
---