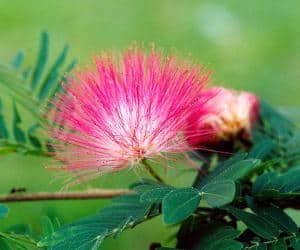 Calliandra is a shrubby plant that bears extremely ornamental foliage and flowers.
Calliandra key facts

Name – Calliandra
Family – Fabaceae
Type – shrub

Height – 6 to 13 feet (2 to 4 meters)
Exposure – full sun, part sun
Soil – well-drained

Foliage – deciduous or evergreen, depending on the climate
Flowering – April to August

Native to tropical climates, this plant needs sun and moisture to develop well.
Planting, growing calliandra
Perform the planting indifferently in fall or spring.
Choose a mostly sheltered spot, preferably endowed with a lot of light.
Calliandra presents high needs in terms of moisture since it comes from tropical climates. To compensate the dryness of the air, you can rest the pot on a bed of gravel or clay pebbles that are doused with water: evaporation will rise and weave through the leaves.
Pruning and caring for calliandra
At the end of winter, before the flowering, balance the shrub out delicately.
In spring and summer
Watering is required frequently in summer, especially if the weather is warm.
If set indoors behind a window, avoid direct impact on the plant of the sun's rays during the warmest hours of the day, mist water around the leaves if need be, with soft water.
In fall and winter
Slowly reduce the amount of water you provide in fall, matching the waning days and temperatures.
Avoid heat sources such as radiators.
Learn more about calliandras
This elegant shrub native to Brazil bears interesting and unique flowers over the summer.
Since it is well suited to heat, it grows in pots well.
You can bring it indoors over the winter in a cool spot where frost doesn't creep in.
Smart tip about Calliandra
To boost the blooming, you can add organic fertilizer once or twice a month as soon as the first flowers appear.
Read also about Calliandra