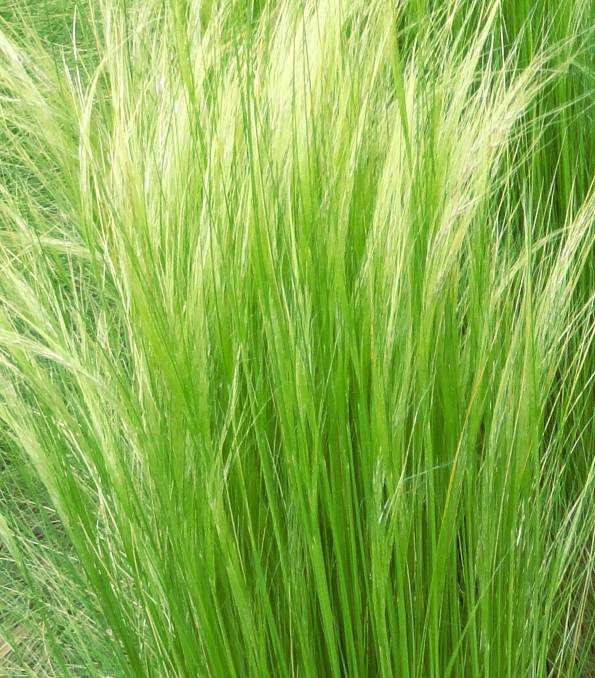 Mexican feather grass which is also called pony tails is a superb grass that is known for its golden shimmering panicles.
Mexican feather grass facts

Name – Stipa tenuifolia
Family – Poaceae
Type – perennial, grass

Height – 1 ½ feet (50 cm)
Exposure – full sun
Soil – ordinary, well drained

Foliage: evergreen
Blooming: May to October
This easy-to-care-for plant fits right into any grass bed and also in a pot thanks to its ornamental appeal.
Planting Mexican feather grass
Indifferently in spring or fall in well drained soil.
Select a very sunny location and try to set it towards the front of a bed to make the most of its beautiful panicles.
Mexican feather grass is hardy and can cope with temperatures as low as 14°F (-10°C).
Pony tails prefers poor soil to rich soil.
Propagate through crown division in fall.
Pruning pony tails
No pruning is really required but it is nonetheless possible to cut the stems back at the end of winter.
Indeed, cutting back part of the dried leaves will trigger sending up of new, bright green shoots.
Use sharp long shears for that.
Cut away the dried portions of the Mexican feather grass without snipping the young green stems that are budding.
Learn more about Mexican feather grass
This very beautiful perennial is part of the grasses family and it produce beautiful golden panicles from summer to fall.
You can set your feather grass up in perennial beds or shrub beds, and also as standalones to highlight its superb foliage.
The care it needs is very easy and it is guaranteed to produce a great decorative impact from spring to winter!
Smart tip about Mexican feather grass
Pony tails adapts particularly well to poor soil, but loathes them when it is too moist.
Read also: