The martagon lily is a remarkable protected bulb flower that is unique thanks to its blooming and to its foliage.
Main Martagon lily facts

Name – Lillium martagon
Family – Liliaceae (lily family)
Type – bulb flower
Height – 20 to 40 inches (50 to 100 cm)
Exposure – full sun and part sun
Soil – ordinary to moist
Flowering – June to September
The most admired of botanical lilies, it is one of the special exceptional plants that every collector loves having in his or her garden.
Planting martagon lily
Martagon lily originated in the mountains, and is quite hardy, but as always, it is preferable to avoid days of freezing when planting.
Lily bulbs are planted from fall to spring while avoid periods of deep cold.
Plant these bulbs at a depth of more or less 4 to 6 inches (10 to 15 cm) , or 2 to 3 times the height of the bulb.
Space them at least 6 inches (15 cm) apart, in clusters of 4 to 5 bulbs.
For your terrace, you can plant them in pots in fall.
In case of moist clay soil, follow our advice to solve the issue.
Care and pruning martagon lily
The Martagon lily is uncomplicated because no care is needed.
It is a plant that stays put year after year and doesn't need to be disturbed…
Simply cut the stems just under the wilted flowers.
Learn more about Martagon lily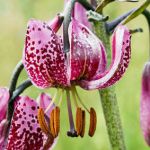 Martagon lily is a protected species in some parts of France, especially in the mountainous areas, and picking them is illegal in order to protect them.
It is applauded for its magnificent blooming which is rare since its main color is pink and violet and is mottled with purple spots.
Right at the beginning of summer, martagon lily releases its soft delicate scent and embellishes gardens and terraces with its splendid flowers.
The name Martagon comes from Spanish Martago, the name given to Mars the god of war.
Smart tip about martagon lily
Add special organic bulb flower fertilizer to make the blooming even more spectacular!