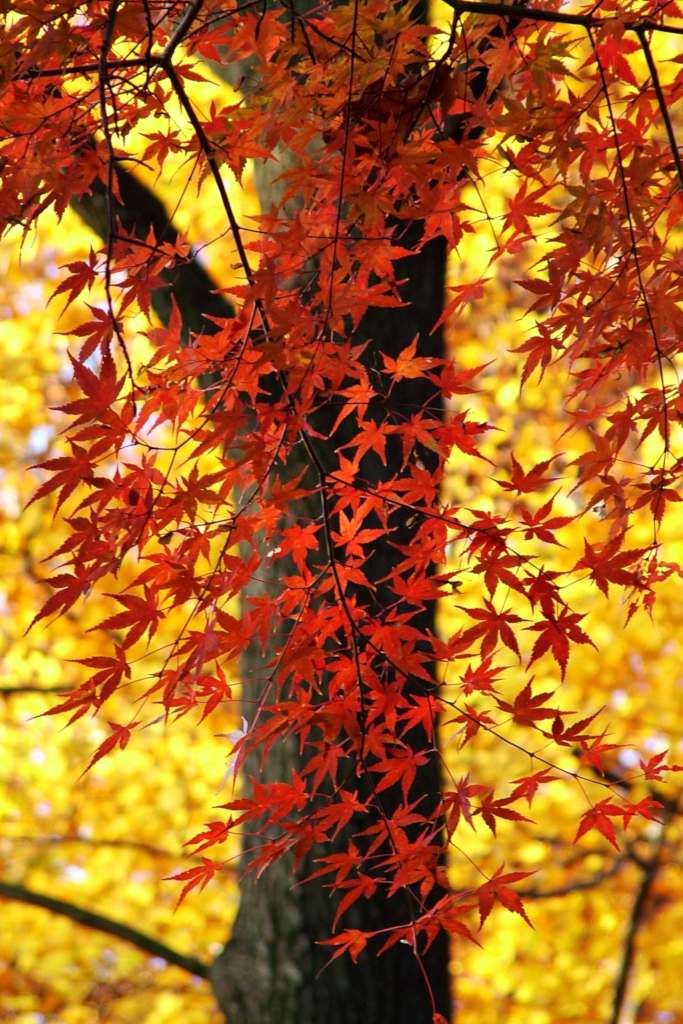 Palmate maple, Japanese maple or Acer palmatum is without a doubt one of the most beautiful autumn shrubs.
Principal Palmate Maple facts

Name – Acer palmatum
Family – Sapindaceae
Type – tree
Height – 16 to 26 feet (5 to 8 meters)
Exposure – full sun, part sun
Soil – heath soil
Foliage – deciduous
Flowering – March-April
It bestows us all year long with leaves in a magnificent range of colors.
Planting palmate maple
Plant Japanese maple preferably in fall or spring.
Although this tree accepts full sun emplacements, it fears scorching sun that would quickly make its foliage fall down.
Also favor part sun especially during the hottest hours.
It is strongly advised to plant Japanese maple in pure heath soil, or mixed with soil mix.
Pruning and caring for Acer palmatum
Care and location are two important criteria that will make your Japanese maple one of the most beautiful trees of your garden or terrace.

Japanese maple naturally takes on magnificent shapes, sometimes layered, weeping or natural. This differs depending on the variety.
It isn't really a requirement to prune.
If, however, you wish to reduce branches, do it between the months of November, after leaves have fallen, and March, before spring growth.
Learn more about Japanese maple, Acer palmatum
Introduced in Europe in the 19th century, the Japanese maple slowly gained in recognition thanks to its delicate and colorful foliage.
A magnificent tree with fiery colors, Japanese maple furnishes palmate or dissected foliage that catches they eye from the end of winter up to fall.
Its red, orange or tender green hues certainly make it one of the most beautiful trees to pair with your heath plant beds.
Japanese maple is perfectly adapted to the setting up of a Zen Garden or Japanese garden, whether planted in the ground or in a pot.
The most common species and varieties include: Acer palmatum 'dissectum', 'Senkaki', 'bloodgood', 'atropurpureum', 'butterfly' and 'heptalobum'.
Smart tip about Japanese maple
Mulch based on maritime pine bark is perfectly appropriate for this tree because it provides acidity to the soil while protecting roots when winters are cold and retaining moisture.
---
Credits for images shared to Nature & Garden (all edits by Gaspard Lorthiois):
Acer palmatum tree by Websi under Pixabay license
Acer palmatum shrub by Anemone123 under Pixabay license