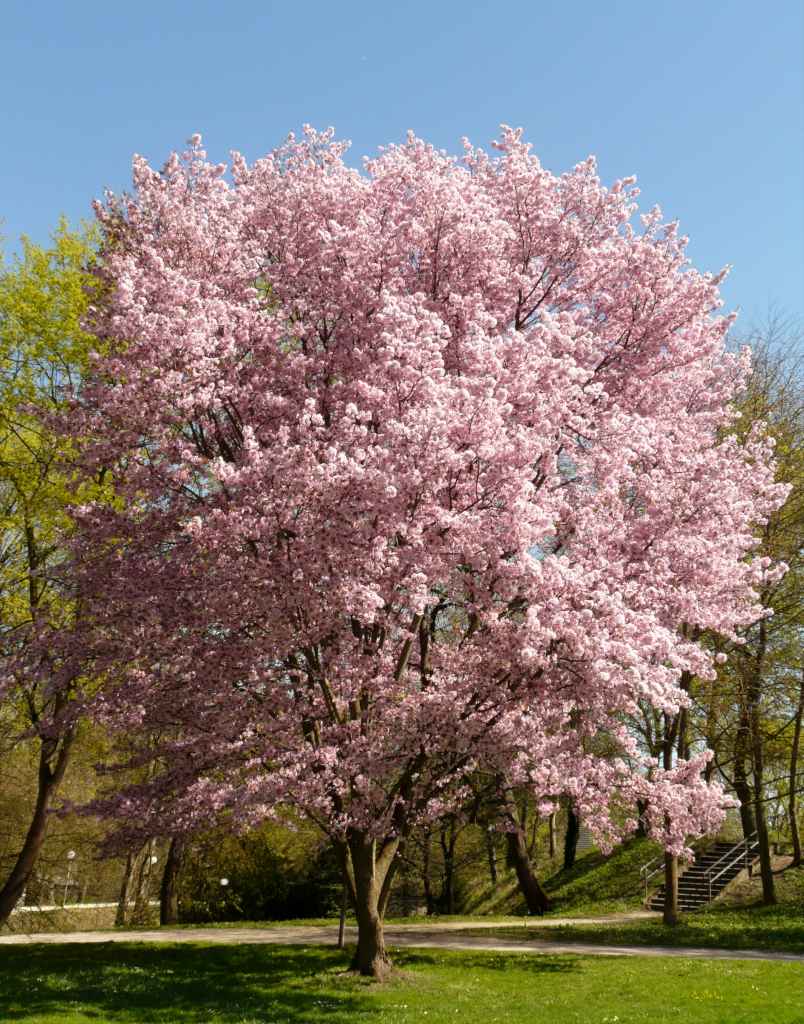 Ornamental cherry tree, also called Japanese cherry tree or Prunus, is a very beautiful ornamental tree.
Key Ornamental Cherry tree facts
Name – Prunus serrulata
Family – Rosaceae
Type – tree
Height – 16 to 40 feet (5 to 12 meters)
Exposure – full sun
Soil – ordinary, well drained
Foliage – deciduous – Flowering – March-April
Pruning and care definitely help it to grow and bloom.
Planting ornamental cherry tree
It is recommended to plant in fall, before the first frost spells, to give the roots time to grow.
If you plant your Japanese cherry tree in winter, proceed only if it doesn't freeze.
Just like most plants that have been purchased in pots or containers, it's possible to wait for spring and summer to transplant it, if you avoid hot spells.
If this is the case, it will be necessary to water regularly over the first few months after planting.
Pruning a Japanese cherry tree
The only pruning that is really important is the removing of dead wood.
Don't prune before the blooming, but wait until it is over to reduce tree size or balance the branches, if needed.
Ornamental cherry tree or Prunus varieties
The most common ornamental cherry varieties are the 'Kanzan', which in spring bear spectacular blooms.
Other varieties are the 'Kiku Shidare Sakura', 'Hokusai' and 'Accolade'. These last ones are smaller than the 'Kanzan', and grow to be 20 to 26 feet (6 to 8 meters) tall, and also cover themselves with beautiful spring flowers.
Lastly, if a small Prunus tree for a smaller garden is what you are looking for, check out the 'Amanogawa' variety.
Did you know…? Ornamental cherry trees or Japanese cherry trees are part of same family as traditional cherry-bearing cherry trees. But the berries they produce are much smaller and aren't worth the effort of picking them, even though they're edible.
Learn more about ornamental cherry trees
An ornamental cherry tree is absolutely magnificent. It brightens our first spring days with abundant flowers in hues that range from white to pink.
This time span, although quite short, will turn your garden in to a burst of color that signals that warmer weather is just about to come back.