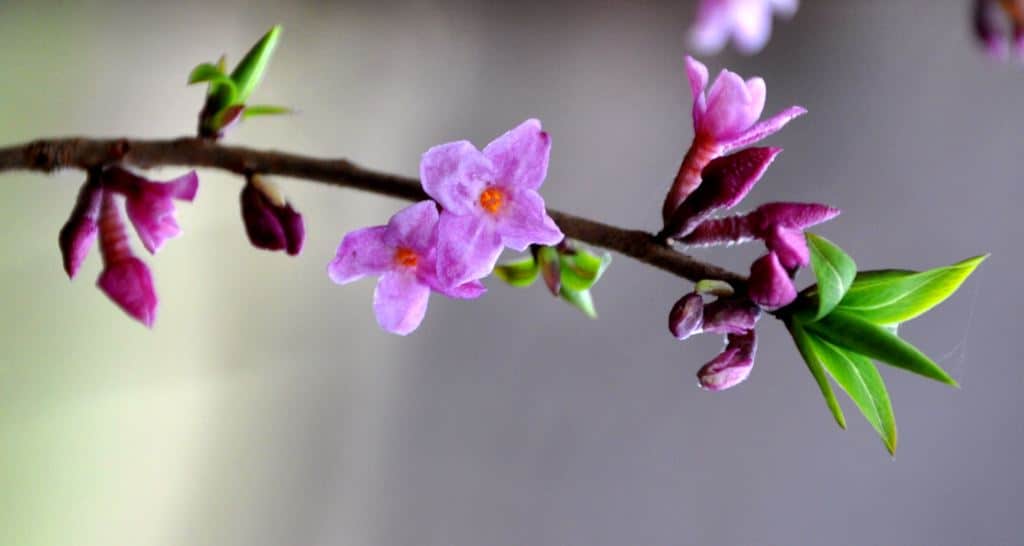 A fragrance of jasmine and spices, an abundant blooming from January to the end of March… In winter, at a time where flowers are dire, daphne comes to enchant the garden.
The daphne is the plant kingdom's gift to us with its most extraordinary fragrance.
Exotic, powerful, very flowery with hints of carnation, jasmine and hyacinth with a dash of clove spice, it can tickle your nose from yards away!
Apart from its fragrance, daphne also drapes itself in a ravishing blooming, an abundance which is quite rare at this time of the year.
Its gradient-like flowers with hues of white, pink and purple unfurl in uncountable numbers for many long weeks. Following the flower, a profusion of little brightly colored berries appears.
Daphne, a welcoming scent
The best place for this shrub is clearly the front door of the house. Plant three specimens around your main door, or any other passageway so that you won't miss its enchanting scents. Pair it with heath, early-blooming bulbs (winter aconite, narcissus and botanical crocus). When planted in conjunction with sparse ground cover plants, they'll be protected against drought.
Keys to succeeding with daphne
Purchase your daphne when it is blooming to be sure to buy the specimen that releases the most scent. Generally speaking, plants with darker flowers release a stronger scent than plants with light-colored flowers. Wait for the end of the blooming to settle it in the garden.
Daphne fears standing moisture, heavy, compact soil that suffocates roots, excessively strong heat and violent sun. It loves having its roots kept cool in summer. Mulching will help do this, as will the fact of watering often whenever the temperature hits 75°F (25°C) or more. A slow grower, it is well suited to small gardens. Apart from the occasional removal of dead and broken sprigs, it doesn't require any pruning. In fact, pruning too severely can even lead to the entire branch dying off, perhaps even the whole plant.
Be careful!
All types of daphne are poisonous. Only grow them in gardens where young children are always under supervision. If the sap touches the skin, it may trigger allergic reactions. Wear gloves when handling daphne.
Daphne on social media
Click to open posts in a new tab. Follow us there, comment, and share!
Also nice: create or join a topic on our gardening forum, too.
---