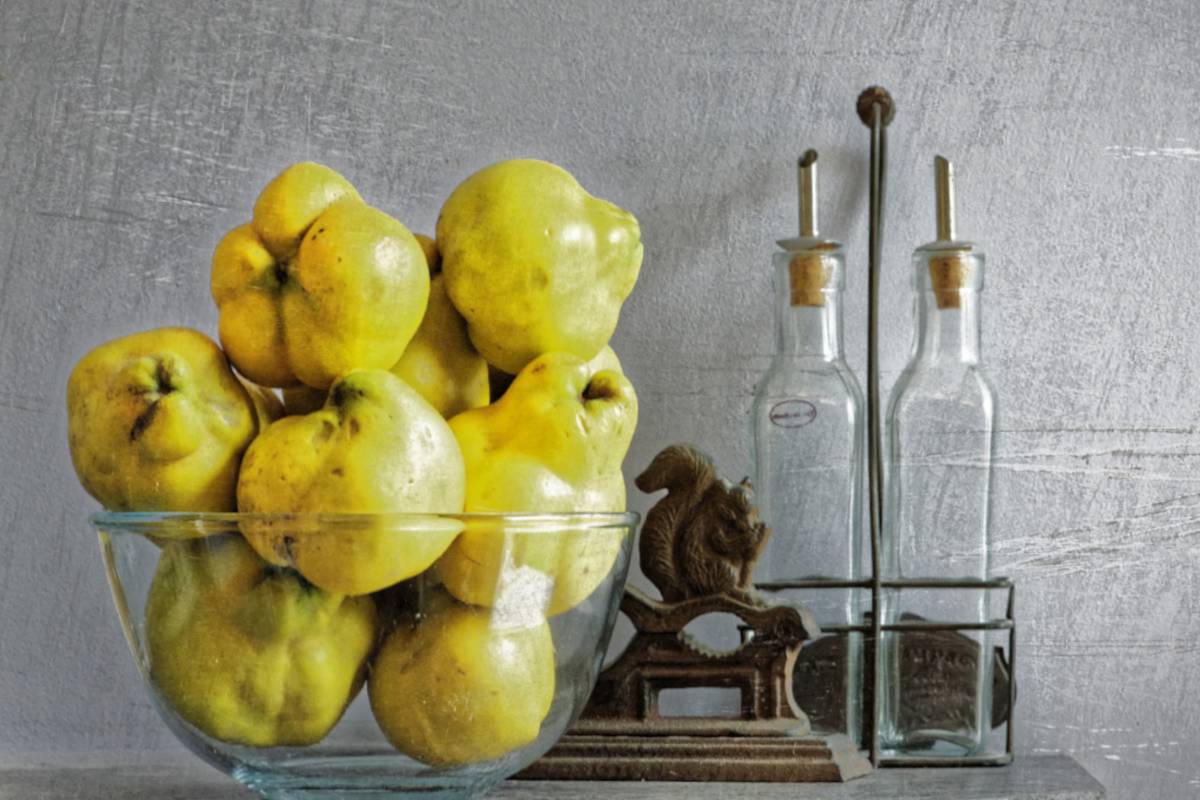 So you're bored with the usual apple sauce or strawberry jam, these are sooo conventional. Why not innovate and try quince?

Grown and born from the quince tree which can reach heights of 16 to 20 feet (4 to 6 meters), quince has been cultivated for at least 4 000 years. Native to Iran, its cultivation spread across the Mediterranean area during Greek and Roman times. Greeks considered the fruit a gift of the goddess Venus. Each bride had to savor a quince before her first night with her husband. Some historians associate the fruit to the apples in the garden of the Hesperides. At the time, it was called the "Cydon apple" or "Cydon pear", named after a region in the North of Crete. Until today, quinces shipped from that area are still the most favored by connoisseurs. In other European countries, quince is grown in small orchards in a variety of latitudes. Three varieties dominate the market currently: the 'Champion', the 'Vranja Giant' and the 'Portugese quince'.
Eat baked in the oven, or cooked as jam or jelly
When raw, the fruit is too astringent to be eaten. Peel it before cooking.
Hint to make it softer: dip the fruits in boiling water for 15 minutes and pull them out to cool. The fruit will then become much easier to peel with a peeling knife.
Add a splash of lemon juice to keep it from turning dark. Jelly, fruit paste, cakes or poultry or lamb tajines are just a few of the many recipes you can prepare from quinces, both sweet and salty.
Highlighted recipe: Oven-baked duck magret with sauteed quince
Good for 4 persons 2 large quinces or 4 small ones, ½ lemon, 2 duck magrets, 1 tablespoon honey, 0.7 oz (20g) butter, salt, pepper, five spices
Preheat oven to 430°F (220°C). Peel quinces. Remove core. Slice into thin quarters and dash with lemon. In a large frying pan, fry quince slices in butter. Add honey, spices and mix. Cover and candy for 30 minutes, mixing from time to time. Slice the skin of the magrets like a tic-tac-toe grid. Salt and pepper both sides and place in a baking dish. Bake in the oven, skin side down, for about 8 minutes. Flip and then bake for another 8 minutes. Remove from oven, slice magrets into ½ inch (1 cm) slices and serve with the sauteed quince.
Discover: all our recipes that include quince
Image credits: ©Philippe COLIN/Interfel