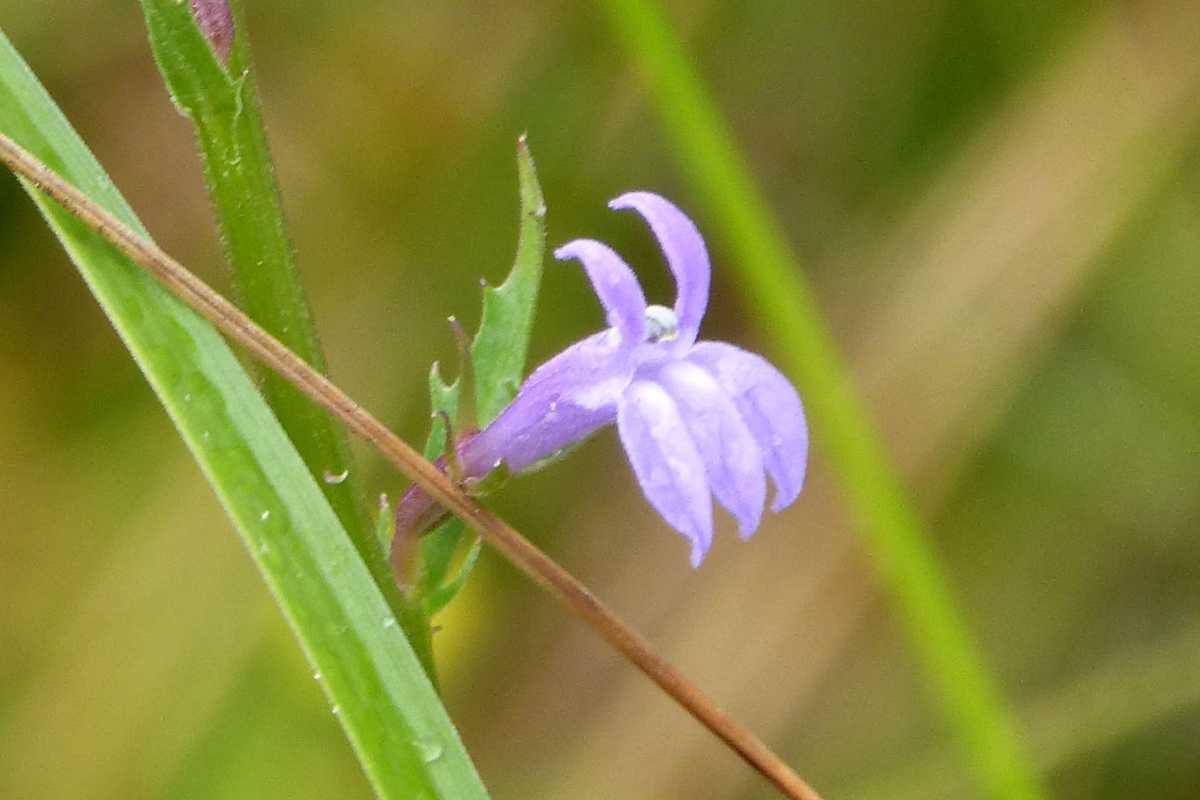 Lobelia is a very cute little plant which blooms almost all summer long.
Main Lobelia facts

Name – Lobelia urens
Family – Campanulaceae
Type – perennial
Height – 16 inches (40 cm)
Exposure – full sun
Soil – moist and well drained
Flowering – August to September
Even though it is very easy to grow and care for, still, it bears abundant flowers.
Planting, sowing lobelia
First of all, take note that some lobelia varieties are annual lobelias and others are perennial lobelias. There are indeed over 350 lobelia varieties, and among these some are hanging types, serve as ground cover, or even stand upright like shrubs.
Planting lobelia
If purchased in a pot or in a container, you can plant your perennial lobelia anytime in spring directly in the ground, taking great care to water regularly at the beginning.
Lobelia appreciates well drained and rich soil.
Prefer full sun or a lightly shaded emplacement.
Sowing annual lobelia seeds
Sowing annual lobelia is quite difficult and thus deserves special care. The best lobelia variety present in our area is Lobelia erinus.
Sow directly in the plot starting anytime in February-March-April, indoors or outdoors in milder areas and a bit later wherever you might be subject to late frost spells.
Transplant them to a nursery pot as soon as the first leaves have sprouted.
Placing them in the ground can only happen in spring, after the last frost spells (usually May).
Caring for and pruning Lobelia
It is said that pruning a lobelia after its first flowering of the year can trigger and stimulate a second blooming, and this is quite true!
Adding fertilizer pour flower plants further stimulates growth and blooming, especially for plants grown in pots or garden boxes.
Every 2 or 3 years, propagate your lobelia through crown division in spring, it will rejuvenate your plant and give it a boost.
Learn more about lobelia
This plant produces nice light blue and purple flowers shaped like spearheads. It's often mentioned as one of the most flower-bearing plants, and also has a great reputation as the queen of hanging plants.
Also called "cardinal flower", this rather humble and elegant plant positively thrives in moist settings.
The most common Lobelia varieties are
Lobelia erinus, about 6 inches (15 cm) tall, bears cute little blue flowers from May to October. Since it is an annual, it dies off just as the first frost spells hit.
Lobelia cardinalis, is a perennial lobelia that grows tall enough, around 32 inches (80 cm). Its flowers are a strong, deep reed color.
Lobelia fulgens, taller than most lobelia varieties, bears flowers that are a bit larger than those of Lobelia erinus, they're also of a very appealing red color.
Smart tip about lobelia
Using fertilizer prepared from manure and seaweed will greatly enhance the growth and blooming of your plant!
---