A garden shed is the ideal solution to put basic garden and DIY tools away. It's also great to prepare seedlings and shelter them from wind and rain.
Since there are ever-increasing options and materials to choose from, what are the most important points that will help you select the garden shed that suits you best?
The size of a garden shed depends on how large your garden is, and what you intend to use it for.
Uses of a garden shed
Apart from being a place to store your gardening tools, your lawn mower, gasoline or products you use to treat plants, a garden shed can also serve to house your DIY projects or seedling preparations.
It's also used to protect cold-vulnerable plants from freezing over winter if there's a window.
A simple outdoor closet or hollow bench
This is perfect for all your small gardening equipment like watering cans, hand tools, and even terrace accessories like pillows or garden boxes for your summer pot arrangements.
Advantages of the closet or hollow bench
Reduced footprint, size under 1 to 3 square yards (meters).
It even fits on a large terrace.
Disadvantages of the closet or hollow bench
Not much storage space.
Possible materials are wood, PVC plastic and metal. Since wood will require the most maintenance, plastic and PVC are better here.
A wooden garden shed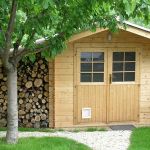 This is probably the most common option in all of our gardens, since it's the nicest-looking option, which pairs well with any landscape concept.
Different wood varieties can be used like pine tree, spruce and cedar wood.
It's important that the wood be autoclave-treated to the highest possible level for maximum durability.
Select FSC or PEFC label wood since this guarantees that the wood was properly sourced in respectfully managed forests.
The size of wooden garden sheds varies greatly since they usually cover 3 to 12 square yards or meters.
This is the nicest-looking of all garden sheds since it uses wood, a 100% natural option.
Disadvantages of the wooden garden shed:
Wood is a building material that requires a little maintenance over the years.
PVC garden shed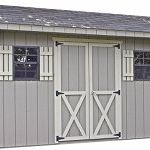 Just like PVC plastic house doors, fences and windows, the garden shed also now comes with this modern option that has many advantages.
Sturdy, light and easy to maintain, PVC plastic is also easier to set up.
Unlike wood, this material doesn't warp or change shape because of heat and cold.
On top of that, PVC is impact-resistant and UV resistant, too.
Advantages of the PVC garden shed
It's probably the way of the future since it is so easy to set up and maintain.
Ideal for seaside and coastal locations since the plastic won't degrade as time passes.
Disadvantages of the PVC garden shed
Even though they're looking better and better, they still can't match the beauty and integration of a traditional wooden shed.
Metallic garden shed
This solution is as easy to set up as the PVC garden shed.
Advantages of the metal garden shed
Easy to set up, very little maintenance if you've chosen a shed built from galvanized steel.
Disadvantages of the metal garden shed
If you live near the coast, it might degrade a bit fast because of the salty air.
Not as aesthetically pleasing as the wooden garden shed, it's easy to paint – but then you'll be maintaining the paint yearly, which might not be great.
Garden sheds and building permits
If the floor area of your garden shed exceeds a certain size, you might need a building permit to set it up.
If it's smaller, usually it's enough to simply declare the project at your local Land Development Office. Give them a phone call, they'll inform you on what is needed.